Liquid Handling Software Update
MANTIS® Liquid Handler 4.0
MANTIS® Liquid Handler 4.0
What's New in MANTIS® 4.0?
MANTIS 4.0 provides the latest improvements to make your work easier. Here is a quick preview of the developments for MANTIS 4.0.
Disclaimer
The MANTIS software has been updated to use Microsoft .NET framework version 4.5, for enhanced performance and reliability. The 4.5 version comes packaged with Windows 8 and Windows 10, while users running Windows Vista or Windows 7 must update .NET to version 4.5 before installing MANTIS. Due to this update, MANTIS no longer runs in Windows XP. Please contact support@formulatrix.com for more information.
Control Multiple MANTIS Systems from One Computer
You can now control multiple MANTIS instruments from just one computer. Each MANTIS will have its own software installation and configuration data, so there's no risk of your dispenses getting mixed up. Now you can get rid of bulky computers and enjoy a cleaner lab setup.
Concentration Normalization Feature
MANTIS software version 4.0 introduces a concentration normalization feature. You can now import a concentration data output file into a MANTIS dispense list and get the concentration information for every well on the plate. Then, the software will automatically calculate the diluent values to be used for the normalization process in each well. By default all of the wells will be normalized to the concentration of the lowest well, or you can choose your own target concentration value. For more information, see Normalizing Concentration.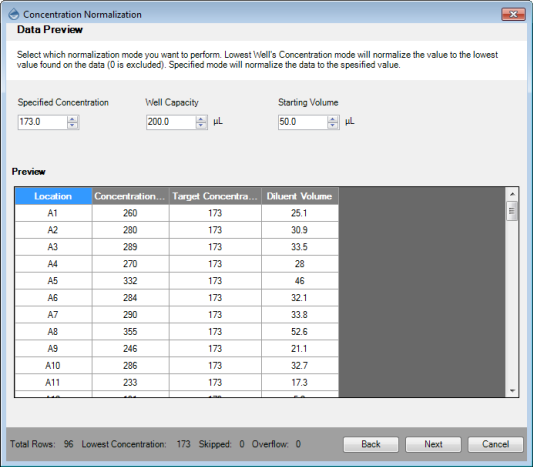 Concentration Normalization Wizard
Multiple Well Selection Patterns
Get more help in dispense design with quick multiple well selection. This feature allows you to easily and effectively design a dispense, especially for plates with a lot of wells. There are 13 types of patterns available for you to choose from. Just select a pattern and type the desired dispense volume, and MANTIS will apply that volume to all of the selected wells. For more information, see Well Selection Patterns.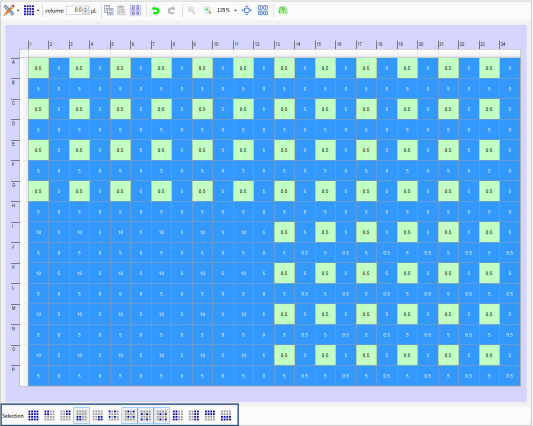 Multiple Well Selection
Configuration Data Backup and Recovery
The MANTIS 4.0 software provides data backup and recovery processes for configuration files, which are useful when a data loss occurs. During software initialization, MANTIS will automatically detect any corrupted files and provide you with options to restore your data accordingly. You can also access this feature while running MANTIS by selecting Restore Backup File on the Tools menu. This way, you can always restore MANTIS to a previous configuration whenever you need. The backup folder can save up to 100 of the newest configuration files, and will always delete the oldest data when saving your new configuration files.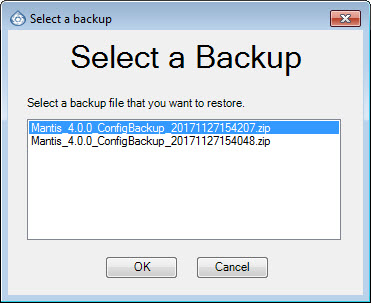 Backup File Wizard
Delay Between Wells
MANTIS 4.0 features a Delay Between Wells option to add a delay between wells in your experiment plate. This is particularly useful when you want to allow the reaction between your reagents to develop for an exact amount of time. You can set a unique delay time for each reagent you want to dispense, according to your needs. For more information, see Adding a Dispense Delay.

Delay Between Wells Option
Pre-dispense After a Long Delay
During the long delay, some reagents can experience a decrease in volume due to evaporation. Thus, the latest MANTIS software provides you with option to run a pre-dispense process after a long delay. If you enable this option, MANTIS will dispense the reagent into the Waste station first, before dispensing it into the wells. You can use the default volume for the pre-dispense process, or configure it according to your needs.
Pressure Mode for Purging Liquid in the Air Ribbon
The pressure option for purging liquid has been added to MANTIS software version 4.0. Selecting this option will allow the MANTIS to quickly purge liquid from the air ribbon and dispose it to the Waste station. This prevents damage to the MANTIS hardware in the event that any liquid gets into the air ribbon. For more information, see Troubleshooting.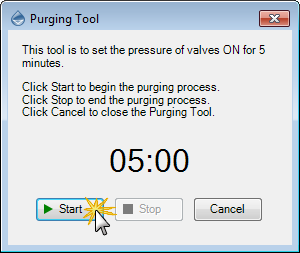 Purging Tool Wizard
Use Pressure When Picking Up and Dropping Off MANTIS Chips
The latest MANTIS software enables you to add pressure when picking up or dropping off the chips. By activating the pressure option, you will be able to apply pressure to the chip on the MANTIS hand, which can help prevent liquid from damaging the solenoid bank.
Select Reagent Option for Tuning Wizards
You can now select a reagent for dispensing test drops when you are adding or editing a plate type definition, or performing deck geometry correction. If you select an existing reagent, MANTIS will automatically attach the assigned chip to the hand, saving you more time. You can also use a reagent that has not been assigned to a particular chip by selecting the Unassigned Reagent option. When you use an unassigned reagent, you must manually attach the chip to the MANTIS hand. For more information, see Adding Plate Types to the Plate Library and Deck Geometry Correction.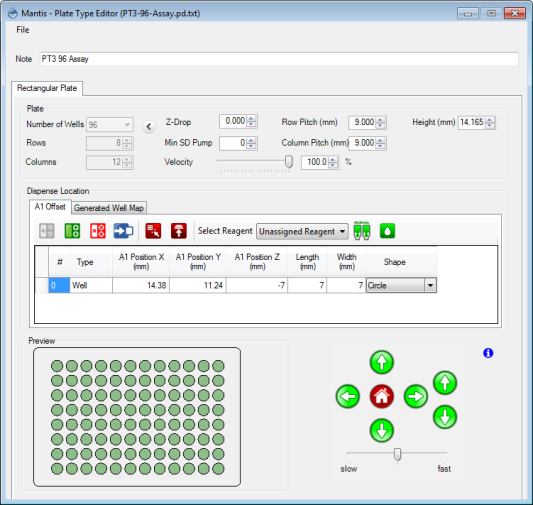 Plate Type Editor Wizard
Chip Attachment Failure Warning
MANTIS 4.0 includes a new option to inform you when chips fail to attach or detach to or from the MANTIS hand. Activating this option causes the software to display a warning message if the hand fails to attach or detach the chips. You can enable this option via Options in the Tools menu. The chip checking command and error message have also been added to the API. For more information, see Using the Options Menu.
Pre-Dispense with the Small Diaphragm Pump
You can now exclusively use the small diaphragm pump for the pre-dispense process. This gives you more control over the process and can help conserve your reagents. For more information, see Using the Options Menu.
Log Dispense Summary
MANTIS now creates a log file for each day of activity which includes the dispense list name, the plate and ingredients used, and a record of the dispense process for each dispense performed, all in an easy to read format. This is helpful for users who want to look at a summary of what their MANTIS dispensed and when. For more information, see Using the Options Menu.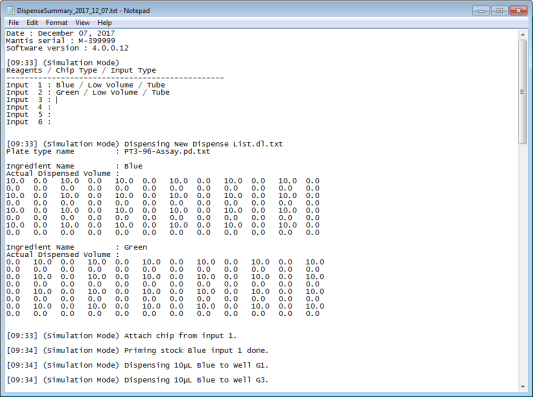 The Dispense Summary
More Intuitive Dispense List Design
MANTIS 4.0 offers you a more intuitive user interface for dispense lists. You can easily add, modify, drag, drop, delete, and save your reagent configurations using the revamped toolbars. For more information, see Dispense List Designer.

Updated Toolbar in MANTIS 4.0
Minor Software Changes
MANTIS has added several minor changes for better usability. Other changes include:
Improved the chip attachment and detachment behaviors on MANTIS when users run the Plate Type Editor, Deck Geometry, or Device Tuning wizards.
API: Added a command to set plate clamp.
Added Note and Information fields in the Protocol window. Users now can type in the Note field and see necessary information related to the protocol in the Information field.
Added a new option to the Advanced menu to scan the MANTIS RFID chip attached to the MANTIS hand.
Added a pre-dispense process before executing a test dispense from the Plate Type Editor wizard. This option prevents MANTIS from dispensing empty reagents during the test dispense.
Added an option in the configuration file to disable Continuous Flow (CF) chips if the hardware does not support CF chips.
Many of the best MANTIS updates have been suggested by our awesome user community.
Have a great idea on how to make MANTIS better?
Let us know by contacting us at support@formulatrix.com