Drop Setter for Protein Crystallization
Reliable Drop Setting: Reduce Costs + Increase Reproducibility
The NT8® - Drop Setter is a fast, nanoliter-volume liquid handler with drop dispensing capability, including setting drops for Lipidic Cubic Phase (LCP) experiments. The 8-tip head aspirates and dispenses drops from 25 nL to 1.5 μL.
Set up hanging drop, sitting drop, microbatch, in meso LCP drops, additive and seeding experiments
8-tip head aspirates + dispenses drops

from 25nL to 1.5 μL
Reusable tips give you the option to dispose tips after each dispense or reuse them to reduce costs + environmental waste
Proportionally-Controlled Active Humidification minimizes sample evaporation and increases experiment reproducibility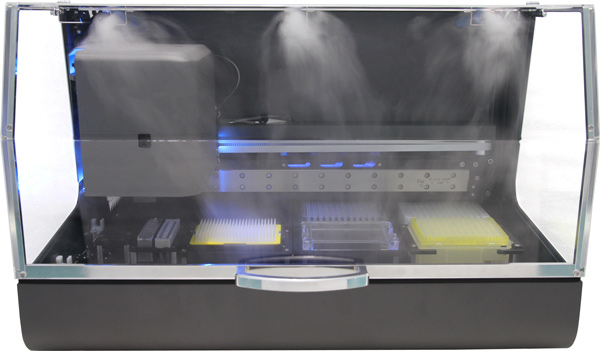 [[[["field9","contains","US"]],[["show_fields","field7"]],"and"]]
[[[["field9","contains","US"]],[["show_fields","field7"]],"and"]]
Clean Drop Release with Flexible Fingers
In order to ensure that drops wick to the crystallization plate, all eight tips must touch the plate. To achieve this, each tip is attached to a flexible finger that can travel +/- 0.5 mm vertically, enabling the dispense head to contour to the surface of each well.
To protect your plate and sample, each tip has a sensor that indicates when the tip contacts the plate's surface. These sensors allow the NT8 to drive down precisely to the point where all tips touch the plate without damaging your plate or sample.
The NT8 Drop Setter can then retract slightly away from the surface - yielding the perfect dispense gap for setting drops. This enhancement improves drop precision and reduces the chance of bubbles.
Washable Tips Designed for Protein Crystallography
The NT8's pipette tips feature a very small geometry and a hydrophobic coating, ensuring precise dispensing across the full range of buffers and reagents encountered in protein crystallization.
With the low volume tips the system uses liquid displacement pipetting, which means the tips can be quickly washed from the inside out and reused, or discarded for zero cross-contamination. The choice is yours.
The small geometry of the tips results in small dead volumes. The total dead volume for the NT8 Drop Setter is less than 3 μL, depending on the viscosity of the ingredient.
Precise Drop Overlay for Seeding and Additive Experiments
The system's unmatched drop overlay precision allows you to add components to your drops, such as seeds and additives.
The NT8's flexible finger design contours to your plate for precise contact dispensing needed for setting up seeding and additive experiments.
Simply, add your seed stock or additive to one of the three columns of the protein tray and run your protocol as if you are dispensing any other protein. The deck can accommodate up to 3 different microplates to increase your throughput.
Lipic Cubic Phase (LCP) Dispensing Made Easy
The NT8's LCP option can accurately and quickly dispense LCP drops as low as 30 nL. Its fully-automated calibration system ensures that the syringe tip is centered to within 50 µm of the target drop location for a perfect overlay of protein on screen. Dispense LCP and well solution drops to a 96-drop LCP plate in about 7 minutes.
The LCP option includes several components that add to the NT8's functionality:
An 8 mm barrel LCP syringe holder
An LCP syringe mixing station with configurable mixing cycles
A calibration station to ensure precise dispenses
Increase Throughput by Creating Daughter Plates on the Fly
This option automatically loads tips and can aspirate and dispense up to 200 µL from a deep well block to up to 3 daughter plates.
Equipped with eight individual pressure sensors, the plate copy head accurately detects when each tip contacts liquid, allowing the NT8 Drop Setter to aspirate from just below the liquid surface. This feature prevents viscous liquids from coating the outside of the tips and dripping while in transit to the dispense location.
The NT8 control software features an intuitive interface that is point-and-click controlled. Designing a standard sitting drop protocol requires only a few steps:
Drag your crystallization plate to one of the three microplate stations
Select the Tip Type - followed by a dispose or wash command
Set the aspirate and dispense volumes
Click Run
Perpetual, Lifetime License
When you purchase the NT8 you get a perpetual copy of the software. This means the software license is yours to keep and run for life. No maintenance is required.
Software maintenance provides you with all the most advanced updates to the NT8 software and access to Formulatrix' world-class support if you ever have any questions, but it is not a requirement.
Testimonials
"As a crystallization robot capable of sitting or hanging screens and prepping expansion plates, the NT8 is fabulous. It is accurate, reliable and flexible. Notably, the water displacement mechanism and small tips allow for extremely low error rates at 100 nanoliter volumes. The tip washing module means that it requires almost no consumables and therefore costs nearly nothing to operate. Moreover, the machine is robust and forgiving even to the most careless or novice user. The NT8 is not just our crystallization robot, it is our most important liquid dispensing instrument."
Sirano Dhe-Paganon
Dana Farber Cancer Institute, HMS
"I believe that we have taken the NT8 to its limits. In our lab, there are times when the NT8 is running non-stop for multiple business days. The sitting drop plates we use have 3 wells to each reservoir, really testing the robot's ability to dispense in the correct location. As we approach 2 years with the NT8, I can say, with certainty, that the NT8 is a powerful robot. It dispenses its drops with high accuracy and precision. It is very versatile, being able to dispense its drops on all plates that are programmable. I am very pleased with the machine. My only complaint is the speed of the robot. Only 8 tip-heads are available for the low volume and high volumes tips. Nonetheless, I would recommend this robot over any other competitors."
Jonathan Alvarez
Althea, CMO
"The NT8 is a very versatile instrument that is fundamental to my research. It provides me with the flexibility to set up crystallisation plates as well aiding in the development of new methodologies. The low volume tips and its humidifier is a crucial aspect of the design that allows us to deal with highly viscous solutions and accurately dispense down to nanoliter volumes. The service team and engineers provide outstanding support and I would highly recommend this robot to other users."
Connie Darmanin
La Trobe University