Precision Nanoliter Sample Transfer
The F.A.S.T. (Flow Axial Seal Tip) is a quick, reliable and easy to use liquid transfer system specifically designed to address any type of liquid transfers across life sciences applications. With its high accuracy, precision and reliability for low volume sample transfer, F.A.S.T. saves hands-on time and reagent cost.
 DNA and RNA Extraction
 DNA, RNA and Protein Purification
 PCR Setup and Cleanup
  Next Gen. Sequencing (NGS) Library Prep
 Serial Dilutions
 Cell-based Assays
 Antibody Assays
 Enzymatic Assays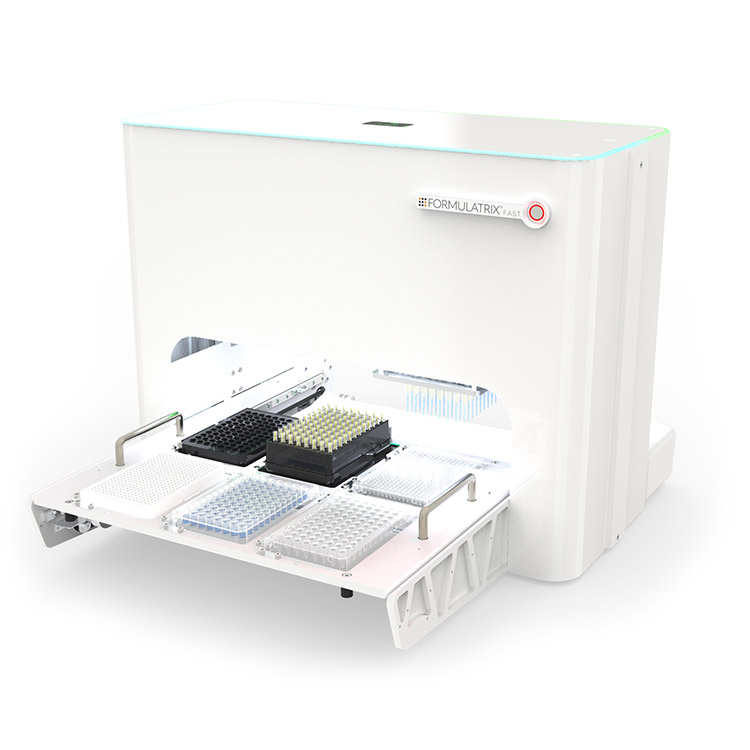 Benefits:
FAST:  Unique 96-tip head allows for rapid sample transfer
Flexible:  Transfer sample between 96- and 384-well microplate formats using 1, 8, 12 or 96 tips
Versatile:  Cherry Picking, Serial Dilutions, Plate Copy
Liquid Class Agnostic:  Positive displacement transfer mitigates liquid class effects on accuracy
Compact:  Small footprint allows for desktop use and integration with complimenting robotics
With a positive displacement pipette tips, the precision of the  F.A.S.T. desktop liquid handler is not affected by the types of liquid samples that are being transferred.  Without the need to account for each liquid class, less time is needed to set up your experiment, while greater accuracy and precision is achieved.
Key Features

High Precision (CV 5% @ 0.1 µL)

Aspirate and Dispense

Zero cross contamination

Integrate with External Systems

Import .csv templates

Positive Displacement Pipette tip Technology

Intuitive User Interface (UI)

Compatible with any type of liquid

Contact dispensing

Small footprint

Extreme low dead volume

Variable sample transfer (96, 12, 8, or 1 channel)
Positive displacement pipette tip technology with Zero insertion force
Why Positive Displacement?
A positive displacement tip uses a  solid piston directly in contact with the sample to aspirate and dispense liquids.  Other methods in which air is in contact with the sample, error is introduced when handling low volumes since it is compressed or expands.  Not only do positive displacement tips provide more accurate and faster transfer rates, but the variability in liquid classes does not affect the precision of liquid handling.  Additionally, the chance for sample loss through evaporation, or cross contamination is removed since the piston creates a barrier between the sample and the instrument.
Removable tray with full automatic calibration system
Removable or interchangeable trays allow researchers to set up their tips, plates and reagents prior to working on instrument.  Therefore, reducing the time for experimental set-up, sample misplacement or error, and more accessible for researchers.
An intuitive software User Interface (UI),
Short learning curve for new user
Easily and quickly set up experiments
No need for programming, writing or understanding difficult software coding language
Personal Computer/ Notebook with minimum specification :
Operating System: Windows 7 64-bit
Processors Speed: Dual core 1 GHz
RAM: 1 GB RAM
Screen Resolution: 1280 x 960 pixels
Browser: Google Chrome Version 69
Electrical Specifications
110-240 V, 50-60 Hz, 130 W typical, 200 W max. Standard or European outlet
Liquid Handling and Labware Features
Volume range: 100 nL to 10 uL (10 uL tips)
 Liquid viscosity range: Any type of liquid
Dispense mode: Contact dispensing
Liquid level detection: No
Transfer precision: 5% CV at 0.1 uL
microplate compatibility: 96- and 384- well microplate standard SBS footprint
Operating Requirements
Temperature: 21

°

C ± 5

°

C (70

°

F ± 9

°

F)
Physical Dimensions
Width    : 532 mm (531.4 mm)
Height   : 403 mm (402.35 mm)
Depth    : 596 mm (595.714 mm)
Weight  : 13 kg (12.18402 kg)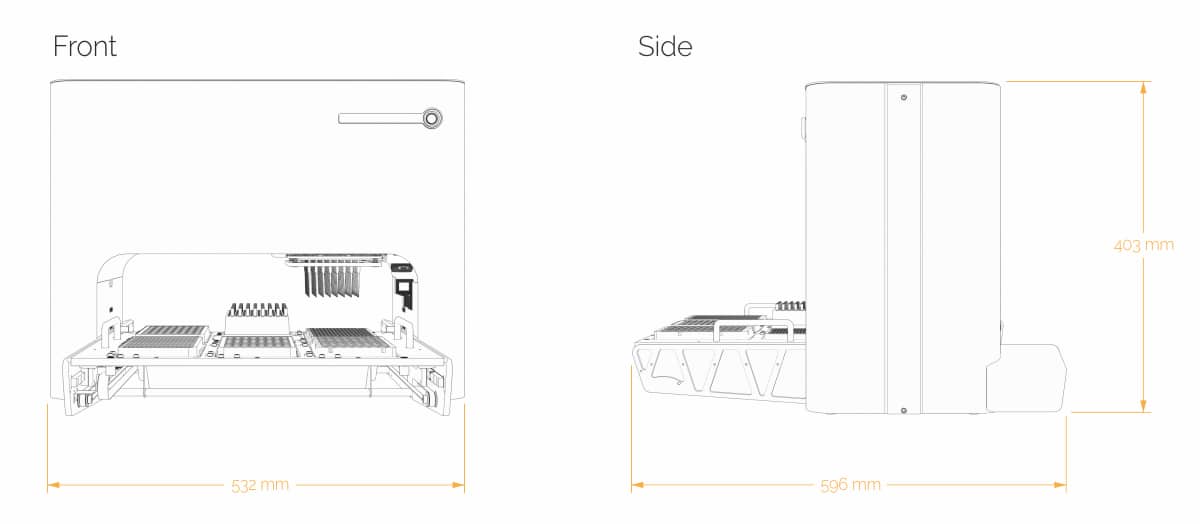 [[[["field9","contains","US"]],[["show_fields","field7"]],"and"],[[["field7","contains","CA"]],[["show_fields","field22"]],"and"],[[["field9","contains","United"]],[["show_fields","field23"]],"and"],[[["field7","contains","MA"]],[["show_fields","field22"]],"and"]]
keyboard_arrow_leftPrevious
Nextkeyboard_arrow_right
[[[["field29","contains","US"]],[["show_fields","field30"]],"and"],[[["field30","contains","CA"]],[["show_fields","field31"]],"and"],[[["field29","contains","United"]],[["show_fields","field32"]],"and"]]
keyboard_arrow_leftPrevious
Nextkeyboard_arrow_right
[[[["field24","contains","US"]],[["show_fields","field25"]],"and"],[[["field24","contains","United"]],[["show_fields","field27"],["hide_fields","field26"]],"and"],[[["field25","contains","CA"]],[["show_fields","field26"]],"and"],[[["field25","contains","MA"]],[["show_fields","field26"]],"and"]]
keyboard_arrow_leftPrevious
Nextkeyboard_arrow_right